Product Description
1.Short screw Thread ND9 vials(11.6*32mm) for GC and HPLC.
2.Available with black or blue screw caps with 9mm thread.
3.Available as closed top screw seals or with centre hole.
4.Vials with integrated Micro-Insert are also available.
5.Plastic Vials ND9 and Plastic Micro-Vials ND9.
6.Short screw Thread ND9 vial is designed to ensure proper centering of limited volume inserts,
eliminating missed injections.
7.Vials are manufactured of Clear or Amber  borosilicate glass.
8.Vials have a 40% larger opening for easier sample preparation
Features 
1. 9mm screw vials can be used on all common autosampler
2. "Short screw, long neck" to make the autosampler easier to capture
3. 9mm wider opening for easy punctur
4. 9mm PTFE/silicone septa, has excellent chemical inertness, acid and alkali resistance
5. 9mm screw blue open top pp caps
1. 9mm Short Thread Vials ND9
Part No.
V917(Economy)
V913
V927(Economy)
V923
V937(Economy)
V935
V947(Economy)
V945
VP923
Description
1.5mL
Clear Short Thread Vial,
9mm Thread,
11.6*32mm
1.5mL
Clear Short Thread Vial,
w/Write-on Spot,
9mm Thread,
11.6*32mm
1.5mL
Amber Short Thread Vial,
9mm Thread,
11.6*32mm
1.5mL
Amber Short Thread Vial,
w/Write-on Spot,
9mm Thread,
11.6*32mm
1.5mL
PP Short Thread Vial,Transparent,9mm Thread,
11.6*32mm
2. Micro-Vials & Micro-Inserts
Part No.
VL913
VL923
VL935
VL945
VR913
Description
0.3mL
Clear Screw Vial
Integrated w/Micro-Insert,
Base Bonded,
11.6*32mm
Base Bonded
0.3mL
Clear Screw Vial
Integrated w/Micro-Insert,
w/Write-on Spot,
Base Bonded,
11.6*32mm
Base Bonded
0.3mL
Amber Screw Vial
Integrated w/Micro-Insert,
Base Bonded,
11.6*32mm
Base Bonded
0.3mL
Amber Screw Vial
Integrated w/Micro-Insert,
w/Write-on Spot,
Base Bonded,
11.6*32mm
Base Bonded
1.5mL
High Recovery
with 30μL Reservoir
Clear Short Thread Vial,
9mm Thread,
11.6*32mm
Part No.
I300
IV250-I(Economy)
IV250
IP250-I(Economy)
IP250
VP91
VP93
Description
300uL
Micro-Insert,
31*6mm  Clear,
Flat Bottom,
Suits for 9mm Vials
250uL
Conical Micro-Insert,
31*5.7mm,
Suits for 9mm Vials
250uL
Micro-Insert with Mandrel Interior,
& Polymer Feet,
29*5.7mm,
Suits for 9mm Vials
0.3mL
Clear PP
Short Screw Micro-Vial,
9mm Thread,
11.6*32mm
0.3mL
Amber PP
Short Screw Micro-Vial,
9mm Thread,
11.6*32mm
3. 9mm PP Short Thread Caps With Septa
Part No.
SC9191
SC9291
SC9391
SC94491
SC9292
Description
White PTFE/Red Silicone Septa,
9mm Blue Short Screw
Polypropylene Cap,
6mm Centre Hole
Red PTFE/White Silicone Septa,
9mm Blue Short Screw
Polypropylene Cap,
6mm Centre Hole
Red PTFE/White Silicone/Red PTFE Septa,
9mm Blue Short Screw
Polypropylene Cap,
6mm Centre Hole
Pre-slit Blue PTFE/White Silicone Septa,
9mm Blue Short Screw
Polypropylene Cap,
6mm Centre Hole
 Red PTFE/White Silicone Septa,
9mm Blue Short Screw
Polypropylene Cap,
Colsed-top
Part No.
SC9193
SC9295
SC9297
 B-SC9291
B-SC92291
Description
White PTFE/Red Silicone Septa,
9mm Black Short Screw
Polypropylene Cap,
6mm Centre Hole
Red PTFE/White Silicone Septa,
9mm Red Short Screw
Polypropylene Cap,
6mm Centre Hole
Red PTFE/White Silicone Septa,
9mm Yellow Short Screw
Polypropylene Cap,
6mm Centre Hole
White PTFE/White Silicone Septa,
9mm blue Short Screw
Polypropylene Cap,
6mm Centre Hole
Bonded
Pre-slit  White PTFE/White Silicone Septa,
9mm blue Short Screw
Polypropylene Cap,
6mm Centre Hole
Bonded
PRODUCT SHOW: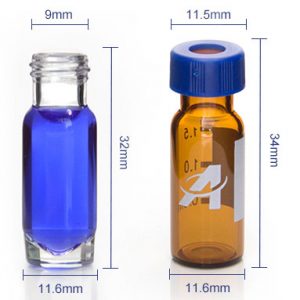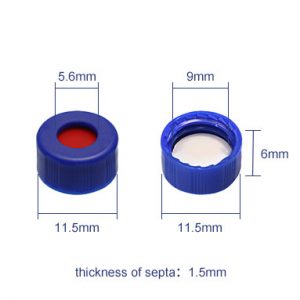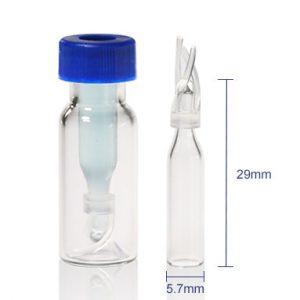 For more information about 1.5mL 9mm Short Thread Vial ND9